Award ceremony and book launch
Two researchers are honored with awards named after two key persons at Aarhus University, who have made a unique contribution to the development of epidemiology in their own way. The research awards, which are established by the Department of Clinical Epidemiology together with Department of Clinical Medicine at Aarhus University, are named after Tove Nilsson and Jørn Olsen, respectively.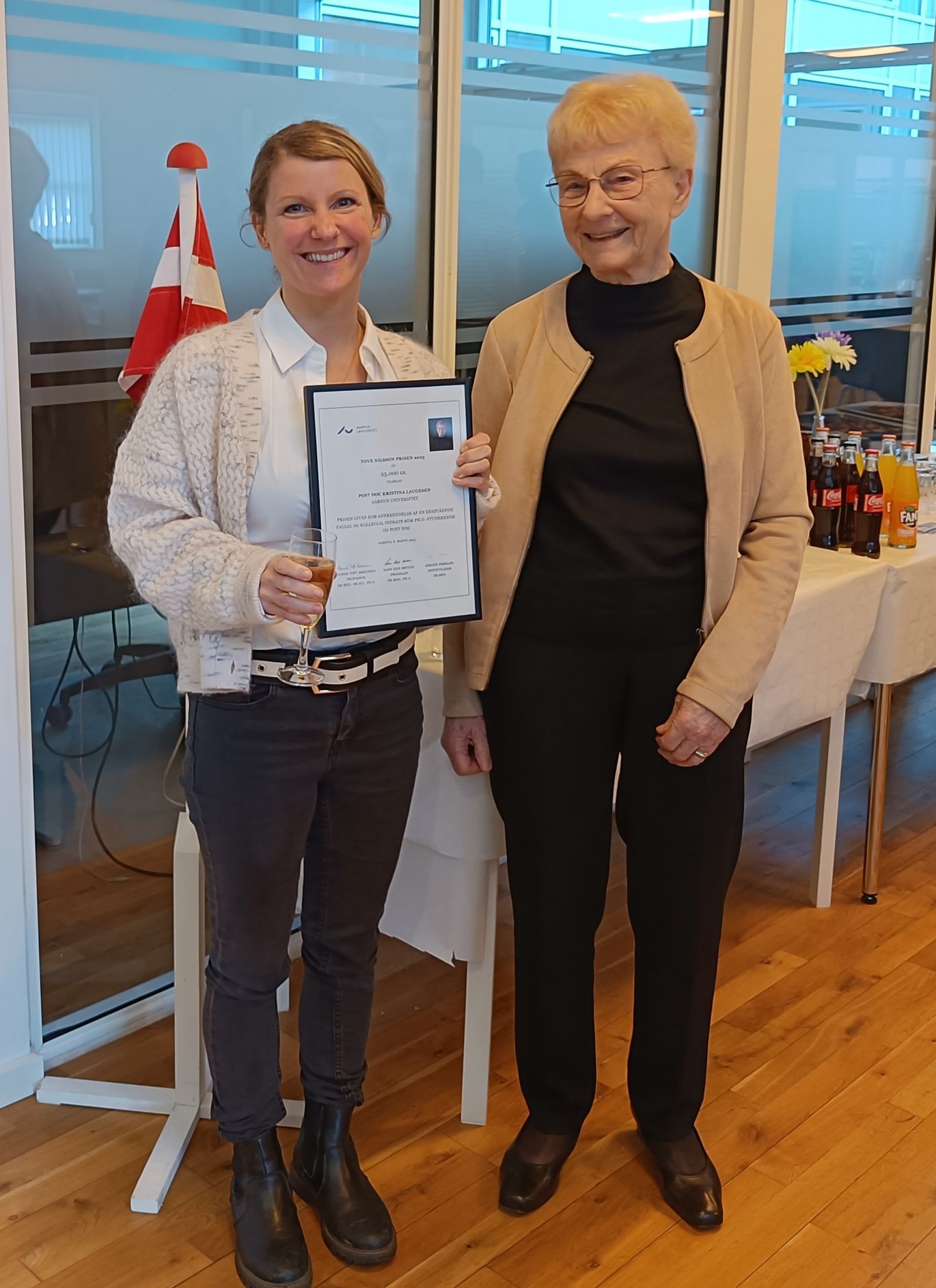 The Tove Nilsson Award
Tove Nilsson has played a key role in the development of the Department of Clinical Epidemiology over the past 13 years as head of administration and chief consultant, respectively. Tove Nilsson has established a unique professional infrastructure and built up many competencies that are relevant to the function of an international research department such as the Department of Clinical Epidemiology. Learn more about Tove Nilsson's career below.
Kristina Laugesen receives the 2023 Tove Nilsson Award
Kristina Laugesen is a medical doctor from Aarhus University. She has completed her research year and her PhD on glucocorticoid treatment at the Department of Clinical Epidemiology and is now a postdoc at the department. Kristina Laugesen has been on research stays at Boston University and University College London, published 27 papers in international journals, and has collaborations with Harvard University and University of California, San Francisco. Kristina Laugesen is a team player who is never afraid to take on a task.
Postdoc and medical doctor Kristina Laugesen is the 2023 recipient of the Tove Nilsson Award. The award is accompanied by a cash prize of DKK 25,000.
Tove Nilsson
1968: Medical doctor
1979: Specialist in surgery
1993: Doctor of Medical Science
1985: Chief physician at Esbjerg Hospital
1991: Chief physician at the Department of Surgery at Aalborg Hospital
2001-2010: Chief medical officer at Aalborg Hospital
2010: Head of administration at the Department of Clinical Epidemiology
2018: Chief consultant at the Department of Clinical Epidemiology
The Jørn Olsen Award
Professor Jørn Olsen has been associated with Aarhus University for almost 50 years. He has an impressive international career and is considered to be one of the world's leading epidemiologists with more than 1,000 publications in international journals. Learn more about Jørn Olsen's career below.
Cecilia Ramlau-Hansen receives the 2023 Jørn Olsen Award
Cecilia Ramlau-Hansen is professor of epidemiology at the Department of Public Health at Aarhus University and holds a PhD in Medicine from Aarhus University Hospital. Cecilia Ramlau-Hansen's research is within reproductive epidemiology, and she has received a Sapere Aude Grant in 2015 and most recently a Synergy Grant from the European Research Council together with collaborators. She has published 182 papers in international journals and has supervised 10 PhD students and co-supervised 13 PhD students.
Professor Cecilia Ramlau-Hansen is the 2023 recipient of the Jørn Olsen Award. The award is accompanied by a cash prize of DKK 25,000.
Jørn Olsen
1973: Medical doctor from Odense University

1984: Professor at Aarhus University

1994: Head of the Danish Epidemiology Science Centre, Aarhus University

2005-2011: Head of the Department of Epidemiology at the University of California, Los Angeles

2015: Senior professor at the Department of Clinical Epidemiology
Vice Dean Hans Erik Bøtker presented the awards at a ceremony at the Department of Clinical Epidemiology on 8 March 2023.
New book: epidemiological research in Aarhus through 80 years
Journalist Jakob Kehlet has written a book about the past 80 years of epidemiological research in Aarhus. The book tells the story of the development of epidemiology as a scientific research discipline that today has become crucial for public health and clinical medicine.
Professor Henrik Toft Sørensen came up with the idea to tell the fascinating story of how epidemiology became a research discipline in Aarhus and how it has developed since then.
"The history of the development of the research discipline is in itself worth remembering, but in this connection, we must not forget the people whom we can thank today for having helped to give epidemiology a solid foothold in Aarhus with their knowledge and dedication," says Henrik Toft Sørensen.
The book is written in Danish. Please contact Department of Clinical Epidemiology if you would like a copy of the book.